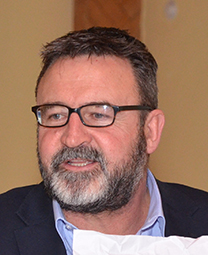 Based in Wales, Martin is a former Executive Headteacher in the Secondary State sector in both England and Wales. He has 34 years' experience of teaching, coaching and leadership at all levels. Martin's strengths lie in his ability to draw out the potential and talent amongst the teams he leads and his drive is firmly wrapped up in the moral imperative to ensure all children receive the highest quality educational experience.
Martin was successful in creating and embedding a Joint Practice Development Model in his school as a method by which to empower and strengthen the skillset of each teacher and leader. This contributed to him earning recognition for leading one of the most improved schools in Wales.
He set up 2° Consulting Ltd. to provide consultancy support to the education sector and regularly consults for Australian based company 'World Mosaic' which offers advisory support for integrating leading edge technology solutions into education.
Martin is also on the QEA International Trainers' Panel. He is working with the community of learners in India and shares QEA's vision and desires to build the capacity of a growing number of Middle Leaders with the aspirational aim to train and empower 50,000+Middle Leaders over the coming four years.