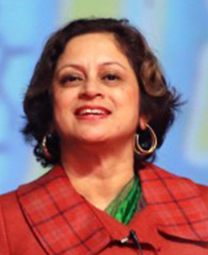 Rupa Chakravarty is the founder Principal of Suncity World School and a teacher of English, having experience of teaching CBSE and Cambridge – A levels and IGCSE. She has trained as the IB- Coordinator at Montezuma– Arizona, USA and for Handling of Adolescence in Worcester, USA. She is trained for 'Leadership strategies' at IIM- Ahmedabad. She has her identity woven closely with that of Suncity World School as the founder Principal. She has incorporated innovative ideas in the school such as the unique methodology encapsulated as an acronym ASK to ASK-U which is in the process of obtaining copyright/ patenting. It also incorporates the Multiple Intelligences and inter disciplinary aspects of learning into the curriculum. The school has got the copyright for the 1 st Development centre on Multiple Intelligences, set up in the world.
She has made presentations at various seminars, conclaves, conferences in India and abroad in countries ranging from Turkey, Srilanka, Mauritius, USA, Japan, Australia and UAE. She has been sponsored for various workshops/ seminars by renowned business houses/ institutions/ Embassies to different places in India and abroad.
She was one of the Principals who helped to constitute the handbook and manual for school quality assessment and accreditation (SQAA) of schools which is currently being implemented and has done an inspection in Tokyo, Japan of a CBSE-i school besides being an observer in India for CBSE i.
She has been an observer on behalf of CBSE numerous times for various examinations and programmes including SQAA. She has been the master trainer for most of the trainings imparted by CBSE – CCE, FA, Mentoring and monitoring SQAA, listening and speaking skills (ASL) and so on.
She is an ideator with the CBSE- international curriculum and she has been training Principals and teachers abroad for three years on behalf of CBSE to implement the CBSE international curriculum in CBSE schools abroad. For which the pilot project is presently being implemented in a few schools including SUNCITY. She is on the 'Core committee' of reforms being implemented by CBSE. The committees are –
CBSE-i
Open book examination
ASL
Bye laws of CBSE i
SQAA
Ideator for –
CBSE-i
Road safety
NCC
Work education
She has won various awards for her work.
She has played hockey at the district and state level. She has also represented her school at the district level in athletics and won medals.
She has been a much awarded actor in inter school competitions besides having won the prestigious Jaycee's talent hunt 'Best actor' award. She excelled in debating, elocution etc in school and college.
Her ultimate aim is to work towards being and mounding' Able and noble' human beings.